07.12.14
A key quality for making things is a certain fearlessness around one's tools and supplies. I don't know where this comes from, for me it has something to do with time (decades of making) and age (being ancient and just not caring). Many women I know confess to owning machines but being scared to use them… I was also that woman, so I understand!
Now that I am over my fear of the machine, I'm left with other anxieties… putting in a zipper! Sleeves! And until yesterday… knits! Not t-shirt knits… sweater knits.
And that's when I ran into O! Jolly!. Olgayln is a master knitter, with a really fascinating history of working in theater and music. And, she has been making, selling, and CUTTING UP gorgeous machine-knit textiles for quite some time. Her blog, Crafting Fashion, about working with knits was the key to unlocking my fears, and I'm so grateful.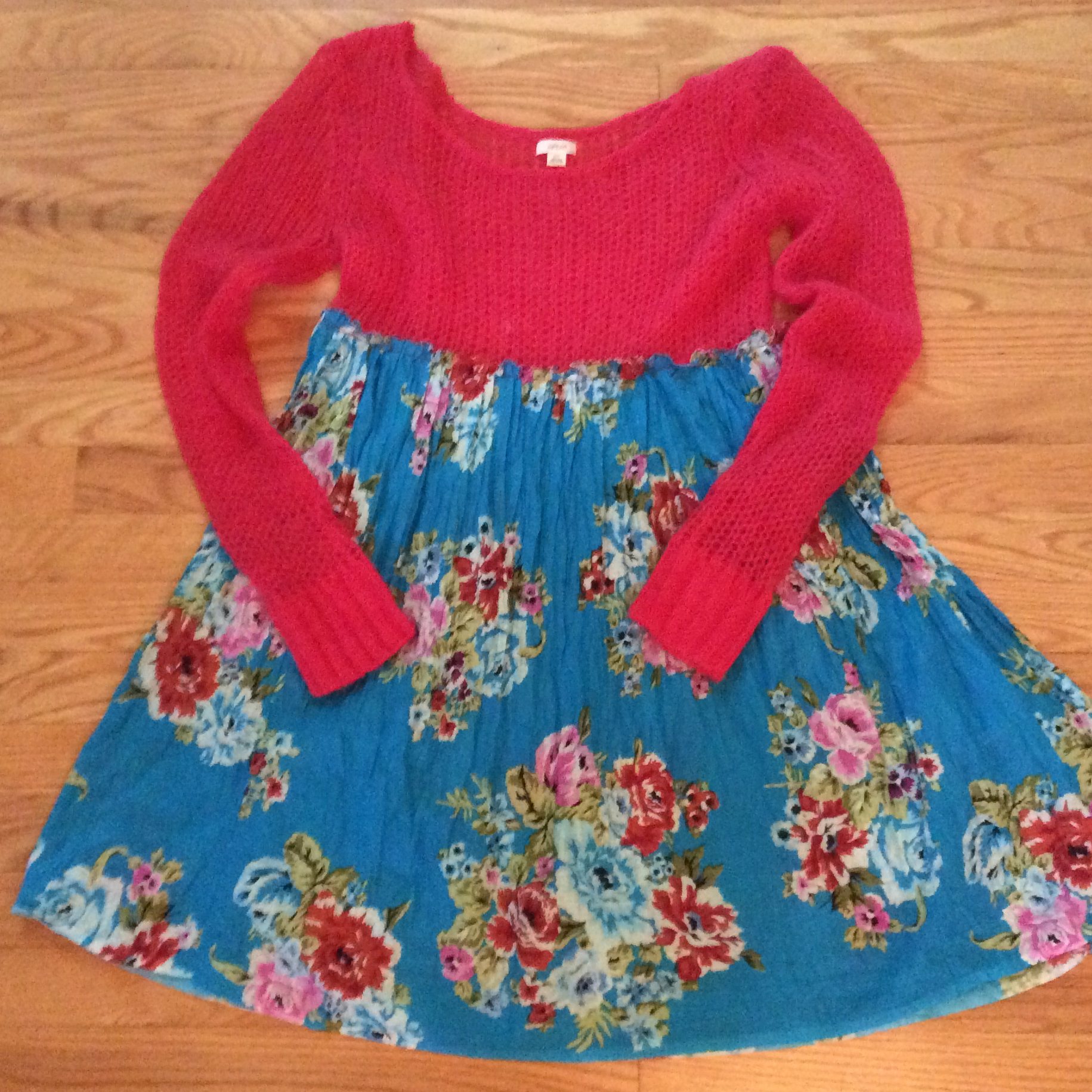 I created the little grunge dress above by cutting up a very open-knit sweater (terrifying) and, thanks to Olgalyn using bias binding tape to seal off the cut end. Below is a shot to show you how this looks.
I thought that the whole sweater (thrifted: $4) would unravel before I had time to walk ten feet from my bed cutting table to my machine. This did not happen.
The body of the dress is Indian cotton, very light and airy, about $6 a yard. Suffice to say, whole worlds of stitchy fun have opened up. As soon as the thrift stores start stocking sweaters again, I'll be off and running.
If you are a Blythe-ette (and I know some of you are) you will want to dress like your dolly and she of course is wearing Cangaway. When you hit the link, be sure to visit her SOLD section. These fabulous dresses (about $30 ea) sell immediately upon listing, and I'm talking MINUTES. You can get on her "first to know" list and receive an email a few moments prior to her listing and then you'd better strike fast. Pictured is my Sophronia, decked out in Cangaway, plus Mad Hatter top hat by yours truly.
Last but not least, if you are or will be in New York on 7/22, I'd highly recommend a workshop Olgalyn is giving on making a shrug from knit fabric. I hope to make it to one she might schedule in the fall if any local ladies would like to consider caravanning to Brooklyn.