11.28.12
A comment from the mom of the baby whose bracelet is pictured in the below post mentioned that she was considering making a shadowbox to contain the bracelet for display during the years prior to her daughter being able to wear it.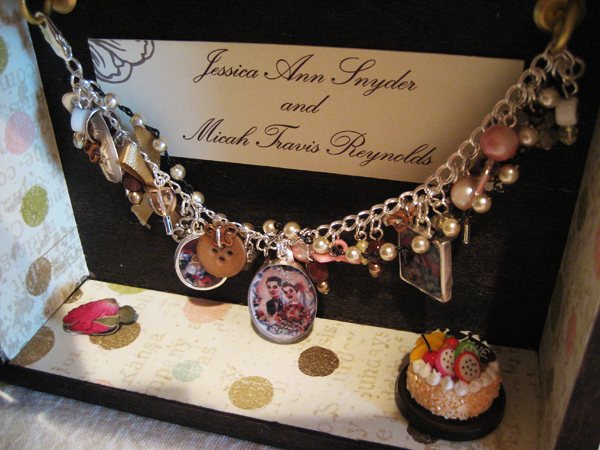 This jogged my memory of creating just such a box when I designed a wedding gift charm bracelet for a friend who I wasn't sure would be able to wear the chunky bangly thing too often… but might want to display it in her home rather than keeping it in a jewelry box hidden away.
The photos aren't great, but I hope you get the idea. The raw pine box was purchased inexpensively at Michael's crafts store and has a glass front door. I stained the box and lined it with pretty craft papers, including a scrap from the actual printed wedding invite, installing two small nails on the back wall for hanging the bracelet.
I then added a few treasures to the bottom floor of the box, a miniature cake and some dried rose petals. I honestly can't remember if I ever resolved creating a way to hang the box on a wall, or if I just left it as something to display on a shelf or tabletop (probably the latter). I had a moment's thought to offer these custom boxes for sale along with my charm bracelets, but ultimately decided that the amount of work involved was just beyond what I could probably charge. It isn't hard, and you CAN do it yourself! If you have any questions or want support with your own shadowbox project, drop me an email any old time! xoxo